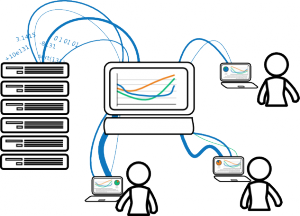 Una de las principales actividades del CIDETIC es el apoyo a la investigación con herramientas de cómputo intensivo y recursos humanos calificados capaces de diseñar e implementar diferentes soluciones. En particular, este Centro tiene entre uno de sus objetivos favorecer la investigación interdisciplinaria con el uso eficiente de las Tecnologías de la Información y la Comunicación, no solamente para la resolución de problemas en los que trabajan los grupos de la Universidad sino, además, para abordar «nuevos» problemas.
En la actualidad, uno de los enfoques en desarrollo es el procesamiento de datos masivos (conocido como «Big Data») aplicado a disciplinas de naturaleza diversa. Este enfoque permite manipular grandes cantidades de datos que muchas veces ocurren en tiempo real y provienen de fuentes diversas para tratar de extraer relaciones que habilitan diferentes tipos de análisis y visiones de un fenómeno particular. Su aplicación va desde la biología hasta el mundo de los negocios, pasando por las más diversas áreas como la medicina, la computación, el marketing, el análisis de redes sociales, la física, entre otros.
Another area in which computing supports research is in the field of simulation. Some solutions to multiple problems that, for some reason, can not be put into practice are modeled computationally to obtain an approximation of the behavior of a certain system. In many areas, scientific computing becomes a fundamental tool to carry out research.
To address these problems, the Center has a team of teachers and computer technicians whose mission is to provide access to technology to different research groups, aiding in problem solving. These activities include model programming, simulation, proof of concept and software prototype design, and general support for data capture and processing. Many of these solutions can be implemented in computer clusters or simply in servers available for that purpose.